Contact us if you want to know more about our Web platforms.
Forest data integration and exploitation web platform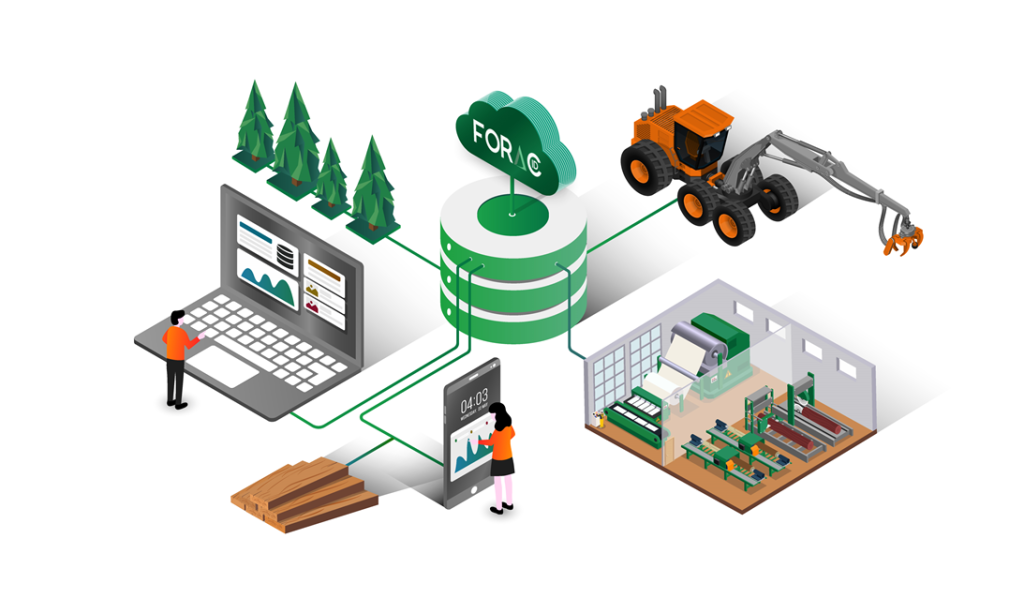 At each step of the forestry industry's value creation chain, large amount of data is generated. The success of the digital shift necessary to bring this industry into the 4.0 era requires the effective collection and use of this data. Although most companies want to create value with their data, their overabundance quickly makes them difficult to process and, most of the time, they find themselves underutilized.
To meet these needs, FORAC is developing a secure cloud computing platform for collecting, integrating, managing and using massive forest data from all sources and origins called FORAC ID. The objective of this ambitious project is multiple.
First, we want to make available a standardized, safe, reliable, easy-to-use and least expensive technological solution that will allow the various forest industry stakeholders to centralize their forest data in order to facilitate their integration and use.
Second, we want to make FORAC's expertise in data processing available to all its partners by implementing it in automated services. Thus, the data deposited in the platform can be valued according to their type. For example, some data can be integrated and aggregated together so that it can be used in the form of reports or dashboards. Geomatic data can be processed to produce activity reports, both for harvesting and silviculture. The platform will also make it possible to develop and offer services based on artificial intelligence.
Third, the data deposited in the platform could be used to fuel the research and development of new heuristics and artificial intelligences which could, in turn, be offered in the form of services to users. We also want to develop the platform in an agile way, in collaboration with our partners, to properly prioritize their needs.
In conclusion, creating new value with your data is not something that we will accomplish overnight. This is a journey that we want to take with you. We are convinced that FORAC ID is the platform that will allow us to make the most of this journey.
Link to the ForacID platform:
https://forac-web-03.forac.ulaval.ca/foracid/
Presentation of the platform: https://www.youtube.com/watch?v=GfUCpvLSWR4 (in french)
Decision support web platform for modeling and optimizing logistics flows
LogiLab is a tactical level decision support tool that allows to model and optimize product flows and production plans of a value creation network that has divergent flows. LogiLab allows you to quickly visualize all product flows between different business units before and after optimization for a determined horizon. It is a tool that facilitates scenario analysis by its ability to graphically represent certain impacts of modifying a logistics network such as closing/opening a business unit, adding new customers, products, suppliers, competitors, new industries, etc.

Many industrial situations can be represented and optimized using logistics networks. There are currently a number of commercial softwares available to express and resolve these network issues. However, none is adequate in cases where the flows in the networks are divergent: i.e. the flows in the network are of different natures and can, at the exit of a node, diversify. For example, in the forest industry, at the entrance to a factory there will be several different types of raw materials (the forest is not uniform) and at the exit a basket of products (planks, shavings, sawdust, etc. .). LogiLab makes it possible both to graphically represent a problem of logistics networks containing divergent flows and to solve it.
Link to the LogiLab platform:
https://forac-web-03.forac.ulaval.ca/LogiLab/
Decision support web platform for modeling and optimizing forest planning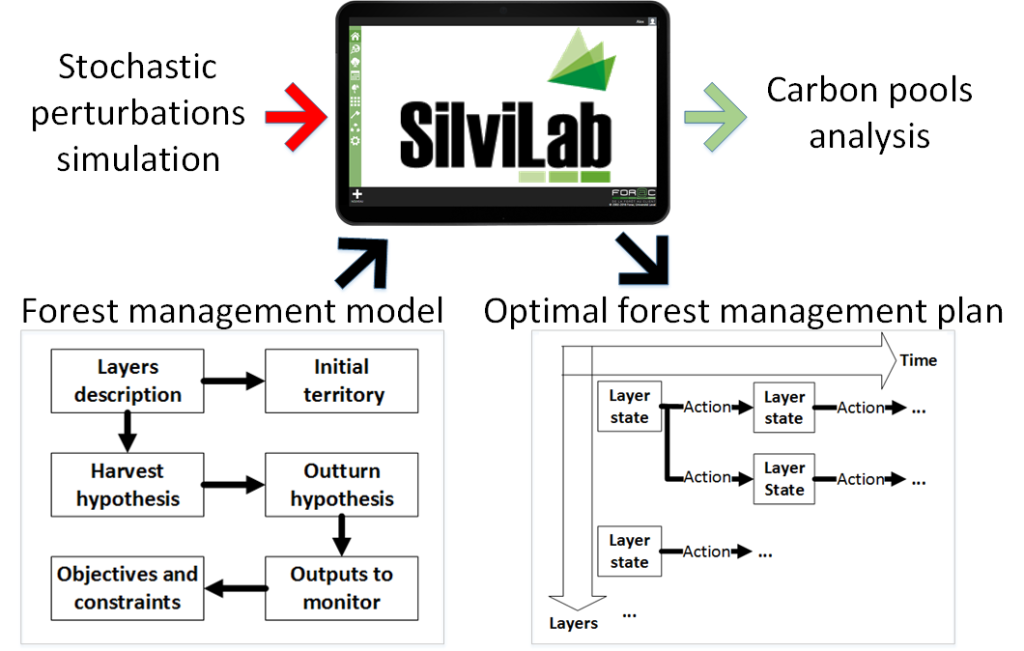 SilviLab is a decision support and strategic planning system for forest management. It is a web application intended to be used by all actors involved in strategic forest planning. SilviLab offers a graphical representation of the territory in the form of layers. Each layer is composed of existing data on forest inventory, growth patterns, silvicultural treatments, public and forest road networks, pricing zones, ecological districts, etc.
In addition to the standard functionalities offered by a mapping system, the strength of SilviLab lies in the possibility of evaluating the impact of forest planning models on industrial development. The application can assess the impact of existing strategic plans, but also produce a new plan if it improves the economic value of the market while respecting the yield and protection constraints established.
SilviLab is developed on a collaborative architecture allowing the various stakeholders to share development plans, compare scenarios and add new layers of data, in an environment that does not require any deployment.
Link to the SilviLab platform:
https://forac-web-03.forac.ulaval.ca/SilviLab